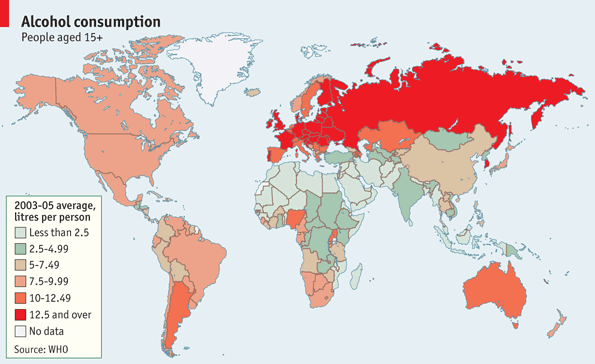 Source: The Economist via Flowing Data:
"The world drank the equivalent of 6.1 litres of pure alcohol per person in 2005, according to a report from the World Health Organisation published on February 11th. The biggest boozers are mostly found in Europe and in the former Soviet states. Moldovans are the most bibulous, getting through 18.2 litres each, nearly 2 litres more than the Czechs in second place."
Join over 190,000 readers. Get a free weekly update via email here.
Related posts:
How To Stop Being Lazy And Get More Done – 5 Expert Tips
How To Get People To Like You: 7 Ways From An FBI Behavior Expert
New Harvard Research Reveals A Fun Way To Be More Successful